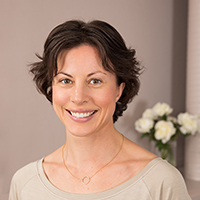 "My passion lies in holding space for my students, sharing with them the beautiful practice of yoga. Embracing each moment exactly as it is, with compassion and a non-judgmental approach. Practicing yoga is like holding hands with a close friend as you walk the path of life, and eventually coming home to yourself after a long journey."
Isabella is a passionate yoga teacher who believes the practice of yoga contributes to a better world. She aims to create a safe space for her students to explore and connect with themselves, inspiring them to live fully in a world of interconnectedness.
Isabella teaches hatha yoga for all levels. She mindfully merges movement, breath and meditation with music, poetry, philosophy and science. Her classes are slow paced and gentle yet dynamic. She welcomes you exactly as you are and encourages you to take your practice from there.
To further balance out movement with stillness and give you another set of tools to use on your path of life Isabella also teaches yoga nidra – yogic sleep. Aiming at taking you to a state between waking and sleeping she gently guides you through this deeply relaxing form of meditation with compassion.
Isabella has completed more than 500 hours of yoga teacher training. She specializes in trauma informed yoga, although hatha yoga lies at the heart of her practice. She is registered with Yoga Alliance as RYT500 and Kroppsterapeuternas Yrkesförbund. Furthermore she is part of the team of Prison Yoga Scandinavia. In addition she holds a master of law; however she no longer works in this field but dedicates her full time to teaching yoga.
For further information about Isabella and her teachings, workshops & retreats, please visit www.isabellafrostbergman.com.