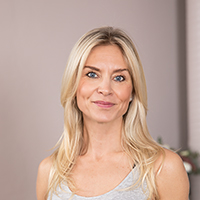 Yoga is one of Karin's great passions. A passion that she wants to share with others. Yoga helps her become balanced, being more present and connecting with her inner self.
Karin is teaching vinyasa, strong flow and hatha yoga. The last few years she has lived on Mallorca where she has taught yoga and held a number of wellness retreats.
Her classes offer a mix of strong flows and calm sequences with time for reflection and recovery. Karin wants to share happiness and energy while at the same time allowing you to meet your true self. Through her teachings Karin seeks to provide tools that will allow others to be their best selves enabling them to live happy and fulfilling lives.
Karin has a 200h teacher training and has also completed Ulrica Norberg's 200h Yoga For Life training.
When not teaching yoga Karin works with fundraising for the non profit organisation Friends.