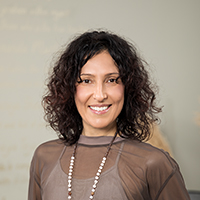 Milena is Internationally Certified Kundaliniyogateacher level 1, by Yogi Bhajan and have excercised it since 2012. Already as a 7 year old she laid the foundation for discipline with Martial Arts. Today she has a black belt in karate, 1 Dan and also teacher for the children.
She is Certified Kundadanceteacher by Maya Finnes. Kundadance is a mix of Kundaliniyoga, Thai Chi and Qi Gong. It is a high intens, fun, uplifting, cardio, dance workout that in 60 minutes takes you through your chakras.
She is also a SOMA MOVE-teacher.
With Kundalini yoga, Milena has been able to face all the imbalances in the body after her life traumas. Today it complements her lifestyle.
She thinks it is so simple and adaptable that everyone can perform it, regardless of age and fitness and it has tools for everything you need for your well-being. For her, it is an honor to share it with you.