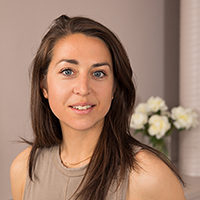 Nathalie received a scholarship to enable her 200 hour teacher training at the East London School of Yoga. She studied under teacher Stewart Gilchrist who is recognized for having dynamic, challenging and strong classes that are grounded in traditional yoga techniques and philosophy as well as innovative in their form.
She is interested in challenging both body and mind and has a strong belief in constantly developing the full potential of the self and getting anchored with the inner voice - and to use, be guided, by the inner voice. She is inspired by Eastern philosophy, morals and ethics and would like to incorporate and share this knowledge in her classes.
Yogasana is a mixture of ashtanga, vinyasa with a focus on breathing, movement and flexibility to create dynamic and challenging classes.
"Yoga for me is not just a practice on the mat but a way of life and attitude in everyday life. I meditate and yoga daily and am constantly amazed at the infinite space for development and insight through my yoga practice."