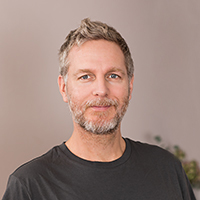 Fredrik's long experience with more then 5500h of experience of teaching classes within the yogic wisdoms gives a natural calmness. This is appreciated from the students when joining his classes of yoga nidra, meditation or traditional Hatha Yoga.
For Fredrik yoga is a holistic way of life where all aspects or tools are part of the whole with meditation, positive thinking, vedanta, breathing, relaxation and of course asana. Fredrik is also an Ayurveda Yoga-therapist where one uses yoga according to the presently dominating elements to get back in harmony in life. His background is from the classical schools of hatha yoga where he did his trainings in a indian ashram, in Singapore and a advanced training in a german yoga ashram.He is a Meditation teacher learned by Swami Saradananda and he got his Nidra certificate with Chitra Sukhu.
Now a days he is s lead trainers himself at a 200h Hatha Yoga teacher training + a Yoga Nidra training in Sweden and a Ayurveda Yoga Therapy training in India.