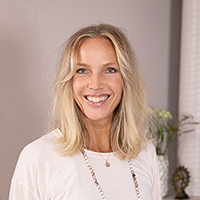 Jeanette is a certified RYT 500H Yoga teacher and an ISHTA Master Teacher. She is also trained in Restorative Yoga, Yoga Nidra, Chakras, Self-Massage with Yoga balls and Therapeutic Yoga.
Her passions are energy, embodiment and empowerment. She integrates these concepts into her classes for you to find balance and bloom into the best version of you.
Physically her classes suit everyone and contain both slow vinyasa, simpler longer held poses, healthy functional or somatic movements and Restorative Yoga. Jeanette usually works with a theme for her classes. The focus is always the breath as well as awareness and presence. Don´t be surprised if her classes also contain hand gestures (mudras) and a treat for the sense of smell with organic essential oils.
To Jeanette, yoga is a tool to gain knowledge about yourself and evolve in all layers of who you are. She believes yoga is a way to find unity both within and without. You will leave her classes with a sense of calm, courage and connection. You will also be equipped with yogic tools to use off the mat when life stressors cross your road.
Jeanette has a background in journalism and worked in radio for more than a decade. She and her family spent 12 years in the USA and have lived in Stockholm since 2011. She continues her study of body, breath, mind, energy & spirit. Stay connected through Instagram: @yogaliciousbyjeanette