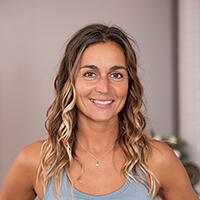 "Already as a teenager, Madeleine began to have an interest in philosophy of life, self-development, took courses in meditation and Qi Gong. At the same time, she started skateboarding in the mid-90s and was one of the first female skateboarders in Sweden. Over the years, she has competed, coached others and been a great inspiration for other girls. She balances life with her passions for yoga, skateboarding and surfing.
Yoga came into Madeleine's life in 2009, after she had experienced a major trauma that would change her life. Yoga became a significant tool and resource for finding the way back (from PTSD diagnosis) to Life and finding inner harmony. Her experience of the healing effect and self-development that yoga gave, led her to want to teach and guide others.
Over the years she has done several educations Hatha TT 200h, 100h Pranayama, Alignement / Assistance, Philosophy (The Yoga Alliance), 15h Science of Breathing, has been a mentor in yoga teacher educations, attended courses / workshops. Over the years, she has worked as an appreciated yoga teacher at various studios, workshops, retreats and surf camps.
Madeleine mainly teaches hatha and vinyasa. Her classes are characterized by an pedagogical guidance, the right sense of alignment, assisting and a warm presence. This is reflected by her energy, understanding, curiosity, playfulness and humor."