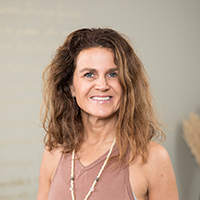 Magdalena has her base in the physical dynamic yoga traditions, and started her yoga practice just over 15 years ago with various forms of hot yoga and vinyasa. She has 200h Hatha education according to The Yoga Allience criteria and has since then attended several extension courses to soon reach the next level (500 h) with, among others, Yin yoga, Ashtanga, alignment, sequencing and assistance. Over the years she has taught above all Hatha- and Yin yoga (She often arranges differently retreats and work-shops).
Her classes often contain both strong challenging flows and calm soft sequences were Pranayama (breathing) always is included as a very central part. Characteristic of Magdalena is to, as far as possible, hold individually adapted classes with clear and pedagogical guidance, filled with joy and energy in combination with the needed calm to find the balance that she would like to guide others in finding as well. In addition to her roll as a yoga teacher she works as a lawyer.
"Yoga for me is a most necessary way of living life that gives my soul, body and mind the balance and inner harmony needed to be able to see the positive and find happiness in all different stages of life itself".