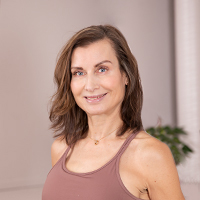 Marianne has been practicing yoga for over 20 years. She has been teaching since 2008, of which several years in South Africa. Today Marianne teaches at yoga studios, companies, and resorts. She also has one on one yoga, master classes, and workshops.
With a solid teacher training (RYT 500/200), she continuously pursues further education in yoga, teaching, ayurveda, and nutrition.
Marianne gets inspiration above all from her students, her family and life. She has enjoyed studying with many teachers, of which Jin Harrington, Hilton Jaggard, and Lauren Porter have all been particularly dear to heart.
Marianne's journey started with practicing Tai Chi, while living in Hong Kong. Via Qigong, Ayurveda and meditation she found yoga to be a an important tool to find more balance in life. She took her first yoga class, when pregnant with her first child, and immediately felt a wholeness in the breath work, the movements and the meditation.

To start with Marianne's teaching was within Ashtanga, but it has since then developed into different yoga styles such as Vinyasa, Hatha, Yin, Yoga for Athletes, Pre Natal, Post Natal and meditation. She also teaches restorative yoga with various purposes such as eating disorders and PTSD. Marianne is still involved in volunteer work in South Africa, teaching yoga.