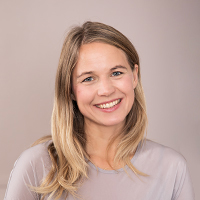 Sandra is an appreciated Vinyasa and Hatha yoga teacher. The heart of Sandras teachings is to keep an open and curious mind as well as building physical strength and flexibility. Her humor is always present as well as her warming and loving touch. With creative sequencing and playful variations, the practice becomes an unexpected and deep experience. 
Sandra is influenced by Jivamukti and Dharma yoga and very grateful for the devoted teachings and continuing inspirations of Anna Hultman, Penny Christodoulou, Yogiswari and Stewart Gilchrist amongst others.
Sandra loves music in every style and form so be prepared to chant and practice with good vibrations. Expect individual assists.