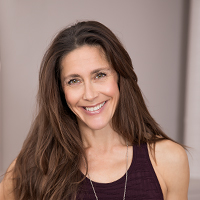 Shirin teaches Vinyasa and Strong Flow and is a ISHTA yoga 200 hrs graduate. Her teachers are Ulrica Norberg, Sarah and Alan Finger.
Shirin has recently moved back to Stockholm, after five years in Mallorca, where she used to teach both in groups, but also for private clients as well as training trips. Her background comes from the fitness industry, as an aerobic instructor, personal trainer and running coach. She has also played tennis since she was a little girl.
Yoga was the thing that came last among all her many skills in training. It was yoga, that glued everything together and also where she depened her understanding for the body as a whole. She also works as a personal trainer and a journalist. Shirin recently started a podcast called #tränamedshirin which can be found everywhere that you can find podcasts.
She is focused in teaching you to be more mindful with your body, a way to get to know yourself better. To build strength from the inside and out and combining it all with the breath. Shirin also lets humor take place in the class. She compares her classes with a feel good film.
The warm up, the peak, as well as the cooling down. Translated into the introduction of the characters, and the most exciting part with love, betrayel, humor, relationships and challenges, where everything eventually ends happy. You will leave the class feeling happy, relieved and relaxed.